Bachus Conservatory is the premier music school in Austin, Texas - offering an integrated approach to music education.
Winter Open House
Bachus Conservatory is hosting a "come and go" Winter Open House from 4:00-8:00pm on Saturday, December 5, 2015. Please be our guest and enjoy live music and light refreshments. You can come as you are - dress is casual. Students and teachers and friends will be performing for your listening pleasure. Music is a wonderful gift for everyone.
Giving Back
We are collecting DONATIONS for "Safe Place." Please consider bringing non-perishable food items and/or an UNWRAPPED child's toy (no toy guns or swords, etc.), wrapping paper, bows, tape, new Christmas cards, and/or wish list items from their website http://safeplace.org/get-involved/give/wishlist/ and/or a check made payable to "Safe Place" for any amount you are comfortable giving. We are accepting donations now, so even if you are not able to attend the Open House, you are still welcome to bring a donation. Volunteers will take donations to Safe Place the week after Open House.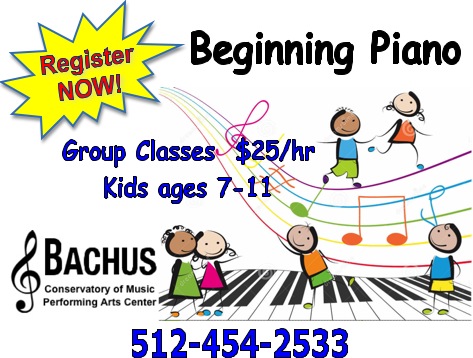 These pictures are from our 8th Anniversary Concert held on September 12th, 2015. Thank you to everyone who attended and helped to make it a wonderful evening!
We are located on RR 620 at Lake Creek Parkway. Our address is 12233 RR 620 North, Suite #305, Austin, TX 78750.
Click here for a map
. Our hours vary daily so it is best to call 512-45G-clef (512-454-2533) and set up an appointment.


LCM Flyer: Click Here
Bachus Center
is a 501(c)3 public charity. Donations help provide music instruction and instruments for financially challenged students. Donations are tax-deductible.