Anniversary Concert

Bachus Conservatory is celebrating our 9th Anniversary on Saturday, September 10, 2016...and you are invited!

Social gathering is from 6:00-7:00pm and the concert starts at 7:00pm. Our teachers and other professional music friends will be performing for your listening pleasure. Please be our guest and enjoy great live music! Bring the kids. Bring your neighbors. You can come as you are - dress is casual. LIVE MUSIC is a wonderful way to spend an evening. Lite refreshments will be served after the concert.
Bachus Conservatory is the premier music school in Austin, Texas - offering an integrated approach to music education.
Private Lessons
We teach Piano, Harpsichord, Violin, Viola, Cello, Dulcimer, Guitar, Flute, Drumset, Marching Percussion for Drum Line, Timpani, Marimba, Music Theory, and Music Composition. Private lessons are typically once a week for 30, 45, or 60 minutes.

Our students are all ages and all levels: young children, tweens, teens, and adults. Although most children are ready for music lessons at about 5 or 6 years old, we have taught a few children as early as 3 1/2 and 4 years old. Each child is unique. We are happy to evaluate your young child to see if he/she is ready for lessons. We teach adult beginners as well as adults who are proficient in their instrument or music theory, but need in-depth technical assistance.
Performances
We offer at least 4 opportunities for students to perform. We have 2 formal recitals each year, usually in January and May. In addition, we have 2 open house events, which are usually in December and April, to provide an informal setting for students.
Festival
Students are encouraged to participate in the Texas Federation of Music Clubs annual District Festival. Students can enter events as early as Pre-K through age 18. Adults can enter from age 19. Student performances are judged, ribbons are given and points are awarded toward earning trophies.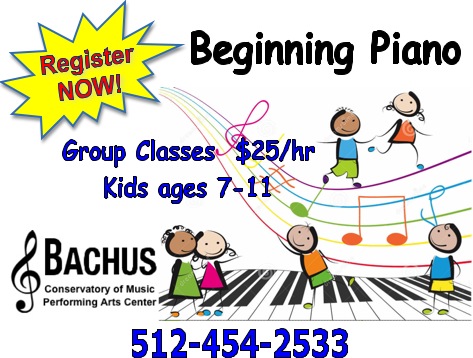 These pictures are from our 8th Anniversary Concert held on September 12th, 2015. Thank you to everyone who attended and helped to make it a wonderful evening!
We are located on RR 620 at Lake Creek Parkway. Our address is 12233 RR 620 North, Suite #305, Austin, TX 78750.
Click here for a map
. Our hours vary daily so it is best to call 512-45G-clef (512-454-2533) and set up an appointment.


LCM Flyer: Click Here
Bachus Center
is a 501(c)3 public charity. Donations help provide music instruction and instruments for financially challenged students. Donations are tax-deductible.